Morning Brew
Presenter: Phil Whelan
香港電台網站只提供過往12個月的節目重溫。
rthk.hk provides archive service for programmes in the past 12 months only.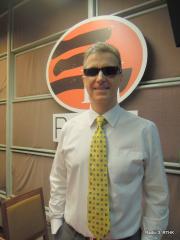 Anne Ishi – Il l Iterate / Al Ducharme – US funny man / Steve Barnes – Hong Kong Visa Geeza
Welcome to a new week on
Morning Brew
. First up today at 10.10 , we meet New York based writer and translator, Anne Ishii. Anne writes extensively for sites like "Slate" and in her own publication "Il l Iterate " where she calls herself a "producer of gay smut", as she's currently producing English editions of gay erotic comics from Japan. Who doesn't? After 11 we'll talk with top US funny man, Al Ducharme, of comedy Central fame, who's back in Hong Kong with the "TakeoutComedy" guys this week. At 12.10 another chance to get your HK Visa questions answered, however simple, with Steve Barnes the "Hong Kong Visa Geeza". Steve is the number one go-to-geeza in this sometimes rather tricky area, so feel free to use and abuse (for FREE!) here on Morning Brew today.
(
morningbrew@rthk.hk
,
, 9.30am-1pm)
---
---
Steve Barnes – Hong Kong Visa Geeza



---