Money Talk
Presenter: Peter Lewis
香港電台網站只提供過往12個月的節目重溫。
rthk.hk provides archive service for programmes in the past 12 months only.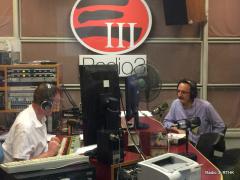 Market wrap/ HK property / View from Singapore
Money Talk:
We have everything on today's show. On the economic front we have minutes from the Fed and ECB rate policy meetings and disappointing economic data out of Japan and Germany. On the corporate front we have takeover activity, bad news from European banks and a lackluster start to US earnings season. In the markets, Chinese shares reopen after the national holidays in buoyant mood and the oil price continues its surge. And there is even political intrigue in the US. We shall try to link together the narrative and make sense of some of the top stories for you. Helping us to do that is Khiem Do of Baring Asset Management and Mitul Kotecha of Barclays in Singapore. And we shall also look at the prospects for Hong Kong property with Christopher Dillon author of the Landed series of real estate books. We welcome your comments and questions.
(8am-8.30am, email to
moneytalk@rthk.hk
, text to 63 93 59 25,
)
8:07 Market wrap


Khiem Do, head of Asian Multi-Asset at Baring Asset Management analyses the Fed's interest rate policy, the outlook for mainland China's market and Japan's monetary policy.


8:15 HK property


Christopher Dillon, author of the Landed series of real estate books tells us why he started writing the guides and gives us the latest update on the property market in HK.


8:22 View from Singapore


Mitul Kotecha, head of Asia FX and Rates Strategy at Barclays in Singapore gives us his local perspective on the global economy and his predictions for the Chinese yuan.