The Indie Show
Presenter: Chris B
香港電台網站只提供過往12個月的節目重溫。
rthk.hk provides archive service for programmes in the past 12 months only.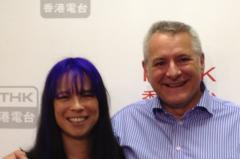 Andrew Davis
On Saturday 24th August, Chris B will be chatting with Andrew Davis who is passionate about indie music. By day, he is the Associate Director-General of Invest Hong Kong, the initiative by the HK Government which brings all sorts of different businesses to our shores. By night he's absorbed in music (and possibly fights crime, we're not allowed to say for sure). What does the business community think of music in Hong Kong? Will Chris B ask him any controversial questions? Show starts right after the 8'o'clock news.

Andrew Davis
Mr Andrew Davis is Associate Director-General of Invest Hong Kong, the government department responsible for attracting and facilitating foreign direct investment into Hong Kong. Prior to joining Invest Hong Kong, Mr Davis worked in both investment promotion and trade development for International Business Wales and its predecessor the Welsh Development Agency (WDA) for more than 13 years in a number of different senior roles, latterly as Director of Trade & Investment London. He is an Asia-Pacific specialist, having spent much of his career in the region, and the past 17 years in Hong Kong.
Andrew has long had an interest in music despite discovering that his passion for the piano was superseded by rugby at 11 - also playing the piano with bruised and battered banana fingers was not on! With a wide and eclectic taste ranging from mainstream rock through to electronic and classical he has over a thousand CDs not to mention some old vinyl. He loves discovering new bands and to that end the indie music scene has proved a rich hunting ground and includes discovering & loving bands like My Morning Jacket, Death Cab for Cutie, Erland and the Carnival and Stornoway!
http://www.investhk.gov.hk/