四台快訊 Radio 4 Highlights

Christmas Concert in the Park – Christmas Rhapsody 聖誕園林音樂會──聖誕狂想曲 (24/12 Sat 星期六 2:30pm Kowloon Park Piazza 九龍公園廣場)
This year marks the 12th annual Radio 4's 'Christmas Concert in the Park'. Hong Kong-born pianist Vanessa Wong and baritone Sammy Chien will join forces with conductor Victor Tam, members of the Hong Kong Chamber Wind Philharmonia, and the Hong Kong Children's Choir, to deliver a series of rhapsodies and other well-loved Christmas tunes to you.
第四台主辦的「聖誕園林音樂會」,今年舉行至第十二屆。本地鋼琴家黃蔚然和男中音錢深銘,將與香港愛樂室樂管樂團和香港兒童合唱團,在指揮譚子輝執棒下,為你送上幾首家傳戶曉的狂想曲,還有多首膾炙人口的聖誕歌曲,讓美妙的樂音在鬧市中播放。
Venue 地點:Kowloon Park Piazza 九龍公園廣場
Dates 日期:24/12 Sat 星期六
Time時間:2:30pm
(Free Admission 免費入場)
Concert Website 音樂會網頁
My Life in Music 耕耘集:我的香港音樂故事 (Mon 星期一 8pm)

Hong Kong was described as a cultural desert in the 1960s. What makes it an important arts hub today? It was the efforts of many arts practitioners who helped put the city on the cultural map now. Let's hear a kaleidoscopic review on the hard work and success stories from Darwin Chen, Barbara Fei, David Gwilt, Doming Lam, Lo King-man, and Yip Wai-hong, in the first episode of My Life in Music (Cantonese programme) on 7 November 2016.



林家琦邀得一群本地音樂界的拓荒者來作口述歷史,談談他們的奮鬥史,回顧如何在被稱為「文化沙漠」的香港開墾出一片光明的綠洲。





在

11

月

7

日第一集的「耕耘集:我的香港音樂故事」,陳達文、費明儀、紀大衛、林樂培、盧景文和葉惠康會分享在香港的藝術土壤上的開墾與耕耘。



The other programmes will feature

各集內容:


14/11

:

Lo King-man

盧景文




21/11

:

Barbara Fei

費明儀




28/11

:

Darwin Chen

陳達文




5/12

:

Yip Wai-hong

葉惠康




12/12

:

David Gwilt

紀大
衛
19/12
:
Doming Lam
林樂培

Programme archive 節目重溫

We want to know what you think! 謝謝你的迴響
Radio 4 wants to hear from you to help improve our fine music broadcast services. Fill out the listeners survey and you may even receive an awesome 4-in-1 Radio 4 gift pack.
Please save the completed survey and email to
radio4@rthk.hk
before 15 January, 2017.
第四台希望聽到你的意見,以提昇我們的美樂廣播服務。完成以下聽眾問卷,你更有機會獲得第四台的四合一小禮物包。
請將填妥的問卷存檔,並於2017年1月15日前電郵至 radio4@rthk.hk。
Download the questionnaire 下載問卷

In Touch with Music 程迷古典 (Sat 星期六 7am)
From the beginning of December, Saturday mornings will feature a new programme on RTHK Radio 4 called In Touch with Music.

For three hours from 7 to 10 am every week, Colin Touchin will be choosing music to share with you that will explore many parts of musical history and several musical forms, from medieval to contemporary, from local to far-off shores, and specifically homing in on the three fields of music-making that I love, and which are really special here in Hong Kong.

管樂專家杜程於逢星期六早上7至10時的程迷古典(英語節目),每小時以室樂、合唱和管樂為主題,為你帶來不一樣的週六早晨。

Young Music Makers樂壇新秀 2017 (Application deadline 截止報名日期:31/12/2016)
Young Music Makers (YMM) is back! YMM offers multi-platform exposure to Hong Kong's distinguished budding artists. Young instrumentalists, vocalists, soloists, and ensemble players are welcome to showcase your talent!


新一屆「樂壇新秀」又來了!今年,我們繼續歡迎熱愛音樂的年青朋友,以個人或團隊、器樂或歌唱形式報名參加,讓年輕一代與愛樂者分享美樂!


Website of YMM 「樂壇新秀」網頁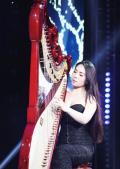 Live on 4 –Konghou Reborn 30 Years 第四台音樂會──箜篌重生三十年 (9/12 Fri 星期五 8pm)
Konghou is an ancient Chinese harp that has been revived in the last century. Since then, many new pieces have been written for the modern adaptation of the instrument. This concert features recent compositions for the konghou, where konghou virtuoso Lu Lu, along with soloists on harp, piano, dizi, a kunqu singer, and a percussion ensemble, join together to perform works by Chinese women composers from Hong Kong, Beijing, Taiwan, and Canada.
箜篌是中國古代樂器,貌似西方豎琴,在上世紀開始重新備受重視,經研製後以現代箜篌的面貌演出,自此吸引不少作曲家為箜篌譜寫新曲。本場音樂會送上最新的箜篌作品,均由華人女作曲家所寫,她們來自香港、北京、台灣和加拿大。魯璐擔任箜篌獨奏,聯同豎琴、鋼琴、笛子獨奏家,還有崑曲歌唱家與打擊樂團,奏出這件古代樂器的當代之聲。
Programme details 節目詳情

Radio 4 on YouTube 第四台錄影節目將陸續上載至 YouTube

"The Rain it Raineth - A Shakespeare Journey in Words and Music" video is available on YouTube.

To mark the 400th anniversary of Shakespeare's death in 2016, our performers took the audience on an unforgettable journey, taking in many of his best known songs, scenes, and characters, exploring the rich drama that is human life.

「唱•誦•莎士比亞」音樂會影片已上載到 YouTube。

這場結合文字與音樂的演出,除朗讀莎士比亞的文學作品外,更送上歷代作曲家得到莎翁的文字啟發而創作的多首歌曲,為觀眾帶來一個難忘的晚上。
Radio 4 on YouTube 第四台的 YouTube 頻道