Radio 3 Highlights
Today's Focus
On
Money Talk
today, the Hong Kong Exchange said yesterday that its profit fell 27 percent last year because of a decline in trading fees. The exchange cautioned that the operating environment for financial markets is expected to remain challenging this year due to (quote) "many political and economic uncertainties". Hong Kong's foreign trade gap decreased in January from a year ago, as imports fell faster than exports, according to government figures. The trade deficit narrowed to HK$12 billion in January from HK$17 and a half billion a year ago. Exports dropped 1.2 percent year-on-year in January and imports slid by 2.7 percent.
Karine Hirn, partner at East Capital, says a longer term period especially emerging markets are obsessed with what President Trump is gonna say re infrastructure and tax cuts and big focus on washing in emerging market. When talking about bad loans, she says banks stocks are cheap in China because no one really know what's in the balance sheet. U.S Present Trump will give his first speech before the Congress later
on Tuesday
, Simon Cox, emerging markets editor at The Economist says before the U.S election, people are worried of him being radical but now people are more worried of him being ineffectual. William Pesek, executive editor of Barron's Asia in Tokyo, says the Japanese Prime Minister Shinzo Abe and his wife are under pressure over ties to a ultra-nationalist school mired in allegations of racism and a sweetheart land deal. He says it's a very uncomfortable story for Abe but he says the story reminds us he's a national whose biggest concern is economy rather than tweaking constitution and he mentions Abe's attempt to make his family more cleaned from his father's nationalistic history.
(8am-8.30am, email to moneytalk@rthk.hk, text to 63 93 59 25,
)
On
Backchat
, Carrie Lam and the CE race. The former Chief Secretary unveils her full manifesto, and two others contenders submit the required nominations. Regina Ip meanwhile struggles. What do you make of Carrie Lam's ideas? How much public support does she have? After 9.20, new planets discovered.
(8:30-9:30am, call in on 233 88 266,
email
backchat@rthk.hk
or text 6393 5925)

Today on Morning Brew, we welcome back the
Jarrod Watt
, the boy from Aus, at 10.10. There'a one sure way to get Aussies to start talking about a 'fair go' - get a panel of very wealthy officials to cut the wages of people who work on weekends. It's a tough sell for Australia's millionaire Prime Minister; meanwhile his old mate Tony Abbott is making speeches about the need to cut immigration and fight radical Islam. Sound familiar? At 10.40, we catch up with Steve Eco aka Dr.
Merrin Pearse
, who reports again from Kiwi. Today: Dairy farming, walking the Tongariro crossing and ongoing impacts of the Kaikoura earthquake on Wellington city.
Tim Cutler 葛添
brings us the latest from the world of cricket at 11.10. Author and journalist
Tim Gurung
will be with us after 11.30 to talk about his current research for a book that will impact many here in Kong Kong, "The Gurkas: A True Story". After 12, we're back to Australia for our weekly chat with Business Futurist
Morris Miselowski.
(9:30am-1pm,
,email morningbrew@rthk.hk )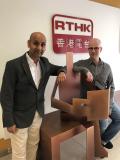 Read All About It is back
On Saturday morning at 8.30 join novelists
Nury Vittachi
and
Marshall Moore
for our book discussion series "
Read All About It
". This week they discuss
The Expatriates
by Janice KY Lee,
The Curious Incident of the Dog in the Night-Time
by Mark Haddon, and the classic,
The Lion, the Witch and the Wardrobe
by CS Lewis.
(Saturdays, 8.30-9am)
"
Read all About It
" is Produced by Phil Whelan.
Vintage Chart Toppers
Vintage Chart Toppers:
Another nostalgic trip, this week, with the Faithful Hussar, a controversial sun hat, the Globetrotters swinging theme song and this years kisses with Wilson, Holiday & Young.