Radio 3 Highlights
Today's Focus
The bosses of South Korea's largest firms including Samsung and Hyundai Motor are being questioned by lawmakers as part of a massive corruption probe, which threatens to lead to the impeachment of the country's President. In the markets traders got a shock this morning when they turned on their screens to find the RMB trading at 7.48 against the USD, a sudden devaluation of 8%. With Chinese social media awash with
rumours
, it appears it was an "exchange rate error." China's state media has waded into the worsening diplomatic dispute with the U.S. describing Donald Trump as a "diplomatic rookie" and warning him not to provoke China on trade and Taiwan.

On Wednesday's

Money Talk we shall examine what a more adversarial China-US relationship means for the global economy and trade. Joining the discussion are Stewart Aldcroft, chairman of CitiTrust, Mark Michelson, Chairman of the Asia CEO Forum and RTHK's Washington based international economics correspondent, Barry Wood.
(8am-8.30am, email to moneytalk@rthk.hk, text to 63 93 59 25,
)

On
Backchat
, Sino-US relations. Uncertainty surrounds the US President-elect's intentions towards China. He's already criticised it for taxing American imports, devaluing its currency and developing its military in the South China Sea. Are the two sides on a collision course? Is it time for a new approach? Who benefits from the financial links? After 9.20,paper towels or hot air in the washroom?
(8:30-9:30am, call in on 233 88 266,
email
backchat@rthk.hk
or text 6393 5925)

Money Talk Business Breakfast
On Friday 9 December 2016, from 7am to 9:30 am, RTHK Radio 3 will be holding a
charity breakfast
for Hong Kong's business and finance community, to be held at
Grappa's Cellar, Jardine House, Central
. During the breakfast, "Money Talk", will be broadcast live (from 8am – 8.30am), hosted by
Peter Lewis
and joined by special guest
Charles Li, CEO of Hong Kong Exchanges & Clearing
.
All funds raised from the event will be donated to Operation Santa Claus, our annual charity campa
ign run in conjunction with the South China Morning Post. This year 23 local charities supporting a range of good causes and innovative schemes will benefit.

The venue will be making a charge of $150 per person for the breakfast. We would also ask all participants to make a minimum donation of HK$100 to Operation Santa Claus. For convenience of organization, we are asking our friends to make an online payment in advance. There will also be a charity fund-raising auction. If you would like to sign up for this fun event, please use the link below:

Money Talk Business Breakfast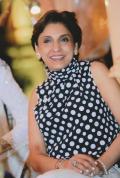 New Show: From There to Here
From
There to Here
is the new series presented by Anna Fenton, where Hong Kong's long established ethnic communities talk about what it's like to be "from" another country, but firmly rooted and settled here, in some cases as long as the establishment of the former British Colony.
This week Anna Fenton introduces Hong Kong's Sindhi community. Historian and author Jason Wordie explains how from humble beginnings as refugees when Sindh province became part of Pakistan in 1947 following partition, the Sindhis have become pillars of Hong Kong's business community. They are renowned not just for their resourcefulness, hard work and tight-knit communty, but also for their distinctive sense of style and glamour. We meet three leading members of the Hong Kong Sindhi community: Bhagwenti Mohan, Angelina Sadhwani (pictured) and Roshan Melwani.
From There To Here,
Saturdays at 8.30am from November 19.
Presented by Anna Fenton and produced by Phil Whelan
Operation Santa Claus 2016
The launch ceremony for "
Operation Santa Claus 2016
", jointly organised by Radio Television Hong Kong (RTHK) and The South China Morning Post (SCMP) was held on November the 9th at The Sky Garden in California Tower, Central. "Small Change, Big Change" is this year's theme, and with help from the whole community we will be able to help 23 extremely worthy charities.
Vintage Chart Toppers
This week on
Vintage Chart Toppers
, we're on the trail of the two funny men......a jolly Hot Toddy......a trip to Vermont....and some Sunday morning record bending!
(Every Sunday, 8.30am-9am.
)

Hong Kong's Top Story 2016


"Family and Friends"
is the theme of this year's
Hong Kong's Top Story
, co-organised by
RTHK
and
EJ Insight
and
the Hong Kong Economic Journal Education.

Thank you very much for submitting your story. We'll read all the material that is sent to us, and we'll announce the result in Mid December. The winners could win book prizes from Pan MacMillan, dining vouchers from the Lan Kwai Fong Group and have your work read on air and published on EJ Insight's webpage and HKEJ Education.
Stay tuned with us.