Radio 3 Highlights
Today's Focus
It's budget day in Hong Kong. Financial Secretary Paul Chan will set out his tax and spending plans along with his economic forecasts for the territory over the next fiscal year. The chances of any major financial reforms are minimal with the CE election due next month. Nevertheless, once again Hong Kong is expected to have generated a healthy budget surplus and the FS will have to decide whether to continue with his predecessor's conservative and prudent approach or to loosen the budgetary purse strings to provide a fiscal boost to an economy that is facing a number of domestic and international headwinds. As always relief measures including tax rebates and waivers will be heavily scrutinised. Also in focus on today's
Money Talk
will be HSBC who have reported a 62% drop in profits, hit by one-off costs and write-downs. Joining today's programme to cast their eyes over economic, budgetary and profit numbers are Stewart Aldcroft of CitiTrust and Nitin Dialdas of Mandarin Capital. Robert Howe, CEO of Geomatrix, joins us from Chicago to discuss the latest business and finance news from the US.
(8am-8.30am, email to moneytalk@rthk.hk, text to 63 93 59 25,
)
On
Backchat
, should there be laws against insulting the police. There have been renewed calls to criminalize abuse of police, an idea that was first floated five years ago. In the wake of the jailing of seven policemen, do our law enforcers need better protection? After 9.20, disappointing Disney.
(8:30-9:30am, call in on 233 88 266,
email
backchat@rthk.hk
or text 6393 5925)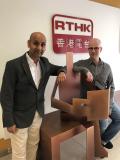 Read All About It is back
On Saturday morning at 8.30 join novelists
Nury Vittachi
and
Marshall Moore
for our book discussion series "
Read All About It
". This week they discuss
The Expatriates
by Janice KY Lee,
The Curious Incident of the Dog in the Night-Time
by Mark Haddon, and the classic,
The Lion, the Witch and the Wardrobe
by CS Lewis.
(Saturdays, 8.30-9am)
"
Read all About It
" is Produced by Phil Whelan.
Vintage Chart Toppers
On this week's
Vintage Chart Toppers
, tongue twisters, tramps and tributes from Rich, Kaye, McKinley and more.Plus, Colin Aitchison takes the Sunday morning beat 8-to-the-bar!